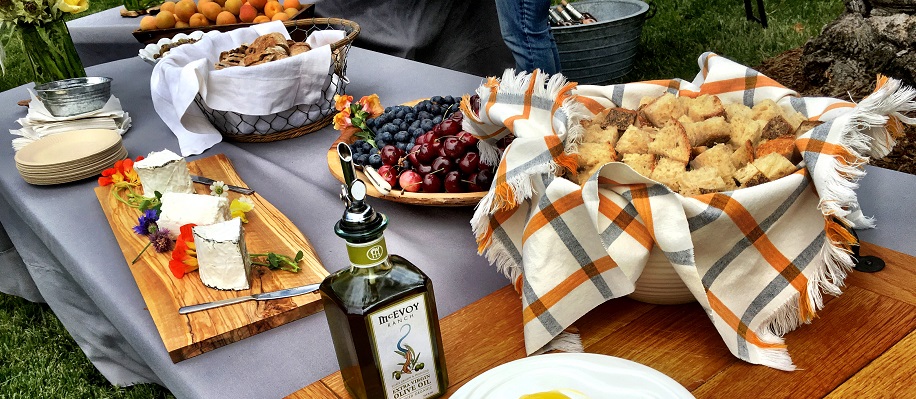 Meeting planners know that after the venue selection, the teambuilding exercise, and the final night gala, the last thing on the menu to plan is…well, the menu. More and more, we are seeing that meeting attendees are becoming increasingly conscious of their diets and overall health. With a large group, one may expect to find a wide array of requests for meal preferences such as vegetarian, vegan, paleo-friendly, gluten-free, lactose-free, etc. With so many palates to please, how can a planner create a standard menu that meets everyone's needs?
While all of these dietary restrictions are fairly common, you probably won't find a small-scale event with more than just a few diets to consider. For these few attendees, you can ask the chef to create one-off meals best suited for those guests. But what about when the attendee number grows for larger events; say 500+ guests? Or what if your large event reflects a broad cross-section of cultural diversity? In those cases, there's a good chance you'll have far more necessity for dietary customizations. That's when you'll need to find a creative solution to accommodate that many guests' culinary requests.
One solution would be to design a meal around diverse stations that are inclusive of many of these special culinary needs. This way, guests can choose what's best suited for their specific diet. An inclusive buffet setting is an informal, communal way to make your guests feel like every detail was considered for their personal needs. Image you have a grill set up to roast fresh corn in a vegetable station or a raw food section with sushi in the spotlight, ALL your attendees will have fun tasting not just various cuisines, but new twists on old favorites, and for some, they will really appreciate the special selections included just for them. To best minimize waste and to really gear your stations to what the guests may need, we recommend sending out a pre-event survey during the planning stages of your large event to get an accurate inventory of all dietary needs.
Take it one step further and offer recipe cards for guests. Attending an event isn't always about business, sometimes it's about broadening horizons, learning something new, and benefitting from an enlightening culinary experience that the guests may want to bring back home and share with their families.
As a partial reference, here's a short primer on what just a few of the most common dietary needs mean:
Vegetarian
Does not eat any meat, with an emphasis on a diet high in vegetables. Can eat eggs and animal by-products.
Vegan
Does not eat any animal products, including meat, cheese, eggs, honey, and gelatin.
Paleo
Eats meals focused on nuts, vegetables, fruits, and meat, while restricting or eliminating dairy, sugar, and processed grains from the diet. Refers to a diet from the "Paleolithic" era. Also known as the "Caveman diet", a paleo-friendly meal is high in hunter-gatherer fare.
Gluten–free
Does not eat breads/foods containing gluten (i.e. proteins found in wheat, rye, barley and triticale – a cross between wheat and rye.) Does eat alternative grain-based breads/foods made with ingredients that do not contain gluten including oats, amaranth, buckwheat, rice (brown, white, wild), millet, and quinoa or from legumes like beans, lentils, and peas.
Lactose-free
Does not eat lactose found in most dairy products (some lactose-adverse attendees might be able to have goat cheese or other cow-milk alternatives). One tip to consider – offer nut milk alternatives for coffee breaks for your lactose-free guests.
Raw
Does not eat any food that has been cooked, pasteurized or processed.
Kosher
Eats food cooked/packaged in a Kosher kitchen which officially follows a set of Jewish religious laws which restrict certain foods from being consumed (e.g. pork and shellfish) or mixed/eaten at the same time (e.g. meat & milk). Often, the planner can order freshly-made, pre-packaged meals from a Kosher source for delivery to a venue that does not keep its own Kosher kitchen. Be sure not to break the seal of the packaged meal, so your guest knows it has come directly from an approved Kosher source.
To "break bread" is to foster a connection over a meal. It shouldn't be any different if that bread is gluten-free. With PRA, your guests' comfort is our first priority. Contact us today to find creative solutions to your event needs. With our years of experience, we work collaboratively with your team to create moments that matter to you and your guests.
Destination
Newsletter
Waterfront Fine Dining on the san Diego Bay
Recent Blog Posts