Companies Form Partnership to Create New Value in the Marketplace of Corporate Events
AlliedPRA, Inc., a global leader in the destination management company (DMC) sector, and Kapow, an online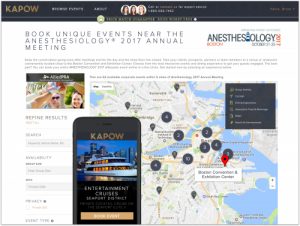 marketplace housing thousands of unique events for corporate entertainment, are pleased to announce their new partnership to change the landscape of client events at major conventions and tradeshows. Participating associations will have a branded presence on the Kapow platform providing local destination experiences and events through a tiered self-service to full-service model. The platform will be utilized for smaller scale experiences, such as private dining events, cocktail receptions and interactive activities, up to large-scale events produced by AlliedPRA, which require piecing together venue space, transportation, décor, activities and entertainment.
This business model presents a new opportunity for associations and their communities in how they secure client events during major industry events. Associations will garner valuable data on attendee behavior, which will provide insight to the overall economic impact an event has on a destination during a city-wide program. The American Society of Anesthesiologists (ASA) is the first association to utilize this platform when the organization conducts its annual meeting later this year in Boston, MA.
"This platform and event model is an industry first, making unique event experiences more easily accessible to an association's community, to enhance the overall attendee experience," shared Chris Wehking, Chief Program Officer, American Society of Anesthesiologists. "Associations generate significant revenue for local host cities during city-wide conventions. The data provided through this new model offers impressive insight on the overall impact. To date, associations do not have an accurate tool in place to account for this."
"Kapow has developed game-changing technology that is in the early innings of revolutionizing the way corporate events are curated and delivered," said Chris Brown, Chief Executive Officer, Kapow. "By combining the ease of an online marketplace with the expertise of AlliedPRA, we provide a full spectrum of activation to our association partners' communities. With real-time information, organizations have new and valuable data which directly impacts the future of significant industry events."
"This model we have created with Kapow is the first step in our approach to client events at major conventions and tradeshows to meet the quickly changing expectations of the marketplace we serve," commented Tony Lorenz, Chief Executive Officer, AlliedPRA, Inc. "We are extending the show floor across the entire host city, offering a single solution for client events regardless of event type or size. More importantly, we are now providing valuable data to associations to understand community behavior and accurate fiscal impact of these industry events. It's a win-win for all parties."
For information on the customizable microsite platform, please contact Melissa Moten, Global Sales Manager, AlliedPRA, Inc. at Melissa.Moten@AlliedPRA.com
About Kapow
Kapow has delivered thousands of events to many of the world's most respected corporate brands. Kapow's online marketplace features unique events curated for client and corporate entertainment. These events, in cities across the country, include upscale dinners, cocktail receptions, sporting events and interactive experiences. With Kapow's platform, your entire event is planned and booked in a few clicks. Kapow also offers free digital tools, including invitations, check in and RSVP tools, and a post-event guest feedback report, which support your event from start to finish. Visit www.kapow.com
AlliedPRA
Founded in 1981, AlliedPRA is a leading event management and solutions company with a reach in over 100 destinations, serving some of the most respected companies in every major industry sector. For information on the complete portfolio of services, please email: globalsales@alliedpra.com or simply visit www.AlliedPRA.com.
Follow AlliedPRA on its blog site or any of the following social media sites: Twitter at www.twitter.com/#!alliedpra, Facebook at www.facebook.com/alliedpra and on LinkedIn under AlliedPRA groups.
Destination
Newsletter
Waterfront Fine Dining on the san Diego Bay
Press Releases