Chicago is a city that embodies Midwest hospitality with a stunning skyline on the shores of Lake Michigan. Our city boasts an impressive array of venue selections and sightseeing opportunities for your next corporate event. Whether your group wants to immerse themselves into the architectural history of our streets, or explore the unique vibe of Chicago's communities enjoying different foods – there is something for everyone here.
What's Hot, What's New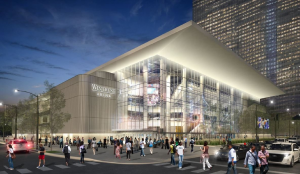 Wintrust Arena — Wintrust Arena is Chicago's newest sports and entertainment venue that is opening this fall in the heart of McCormick Square. The fresh contemporary space will serve as a multi-purpose area for a variety of events and the future home for DePaul University men's and women's basketball teams.
Marriott Marquis Chicago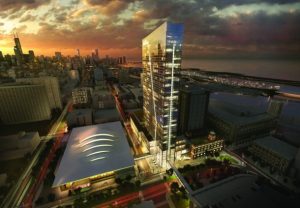 — This brand new luxurious four-star hotel, located next to McCormick Place, offers 1,205 guest rooms furnished with a simplistic and contemporary finish. The hotel rises 40 stories up providing breathtaking views of Lake Michigan, downtown Chicago and the South Loop for guests to enjoy.
Chicago Blues Experience— Expected opening in 2019, this three level Chicago Blues Museum located in downtown Loop will feature memorabilia and history of Chicago blues legends, interactive displays, as well as an entertainment lounge and restaurant.
Fulton Market District— Chicago's most up-and-coming neighborhood, Fulton Market District offers incredible architecture, an amazing food scene, and the hip Ace Hotel. Definitely worth a stroll at this hot new part of town.
Point and Feather — If you are looking for a fun and nice alternative to a night out in the city, Point & Feather is the place to go! Restaurateur behind Broken English Taco Pub, Adolfo Garcia, created this fresh spin on night life by creating Point & Feathers Dart Bar.
AceBounce— AceBounce is a game-changer in social entertainment venues, which combines three elements of hospitality: bar, restaurant and entertainment activity – all set against award-winning design and the highest standard of fit out.
Glass Boat Odyssey Cruise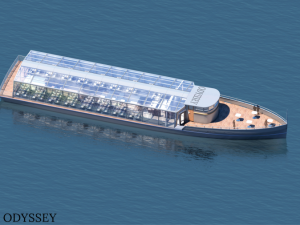 — Forecasted to launch mid-July 2018, the new Odyssey cruise with a glass roof and sides will allow room for 200 guests to view the full cities beautiful skyline and architecture. The cruise will operate year-round featuring seasonal meals, and entertainment.
Blue Plate Catering – Larkin Hall— This newly constructed, 3 story, 80,000 square foot venue not only serves some of the most sought after event menus, but also offers many functional spaces to create the perfect space for almost any event.
Fulton Market Kitchen — Fulton Market Kitchen is a unique and creative space that integrates various art mediums and styles with original cocktails and cuisine to create a new experience for Chicago's evolving foodie culture.
This article first appeared in our Destination of the Month feature. Sign up for our newsletter to stay up-to-date on our 26 locations!
Destination
Newsletter
Waterfront Fine Dining on the san Diego Bay
Recent Blog Posts