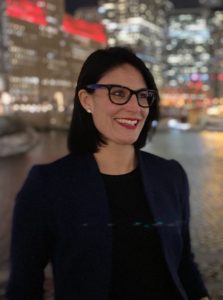 CHICAGO, March 4, 2020 – One Smooth Stone, a PRA event and communication agency, is proud to welcome Florence Nalepka, Vice President of Business Development, who will focus on new business opportunities for One Smooth Stone and the agency's event and content strategy, creative communications and event production services.
Nalepka's tenured career in business development includes Strategic Alliance Marketing, Cipriani, GES and Willwork Global Event Services. Most recently, Florence served as Global Director of Sales for the Sports Division of Northstar Travel Group.
"We're thrilled to welcome Florence to the One Smooth Stone team," says Mark Ledogar, President of One Smooth Stone. "Florence's experience, passion for creating great experiences and deep appreciation for the power of culture makes her a perfect fit for our agency and the clients we're privileged to serve."
Nalepka is a graduate of Arizona State University and is based New York.
For more information about One Smooth Stone, a PRA event and communication agency, please contact Florence Nalepka at fnalepka@onesmoothstone.com or visit OneSmoothStone.com.
About PRA (pra.com)
Headquartered in Chicago with 29 offices throughout North America, PRA is a leading business event management firm, creating experiences which move hearts, minds, and businesses forward. Through its ownership of events and communication agency One Smooth Stone, PRA offers end-to-end integrated creative, production and communication solutions aligned with business events.
PRA blends Passion, Reach and Authenticity to consistently deliver incomparable experiences that engage participants and exceed business goals. PRA's reach runs deep, delivering value to millions of participants over nearly 40 years in every major destination across North America and beyond.  For information on our complete portfolio of services, please visit PRA.com or email: globalsales@pra.com. Follow PRA on our blog or any of the following social media sites through the links below.
Destination
Newsletter
Waterfront Fine Dining on the san Diego Bay
Press Releases