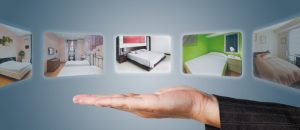 Last month, we discussed integrating Artificial Intelligence (AI) enabled Chatbots into your meeting. But meeting attendance is just one portion of the overall guest experience. Guests traveling to an event may spend as much time in their hotel room as they do in a meeting room; and, because of this, technology has evolved and adapted to the particularly transient needs of attendees. As planners, let's broaden our scope and ask ourselves: "How do we anticipate and exceed our guests' needs in every facet of the meeting through technology?"
Hotel technology is in a renaissance right now–and it may just be the answer to this question.
What Is It?
Simply put, hotel technology is the mechanization of improving a guest's overall experience. By introducing new technologies designed to be at the service to the guest, your attendees have both virtual and human interaction that contributes to an overall better guest experience. For example, guests could bypass check-in lines if a hotel has adopted a cloud-based PMS system. Further, hotel-sponsored concierge-like apps could offer discounts specific to the guests, much like Groupon.
Why Use It?
Our world is evolving and we need to adapt quickly to the ever-increasing digitization of our marketplace. Traditionally, the hospitality sector has held onto the belief that their revenue is generated through a personal touch alone. But, we know that technology offers services that personal concierges can't perform at the same rate. The introduction of new apps, AI, and devices not only provides guests with on-demand satisfaction, it improves the overall quality of your event. Guests can seamlessly transition from high-tech meeting spaces to high-tech hotel rooms to ensure an attendee's every need is met efficiently and expediently.
How to Integrate It?
Taking small steps to give your guests the luxury of technological integration can be as simple as partnering with hotels that are Alexa-enabled. Many hotels are adopting Google's AI platform to be a personal concierge during their stay.
Further, when setting up your AI Chatbot, partner with a hotel at its inception. In doing so, the bot will be able to answer not only questions pertaining to the event itself, but also to the activities the hotel and the surrounding destination offer.
Finally, the internet doesn't end at the phone in your hand or the black obelisk of the Echo on the nightstand. Partnering with hotels which offer things like Smart TV's, Hues lighting systems, and adaptive alarm clocks will give guests the ability to customize their hotel room to their needs. Offering technology such as these gives the user the ability to control all the creature comforts of the room to mirror those of their home.
There is a disconnect happening in the meeting industry. Planners often speak about high-tech, high-touch events, but then drop guests off at impersonal hotels stuck in the 20th Century. We are at a precipice of bridging these two worlds in the meetings industry–and PRA is ready to help.
Destination
Newsletter
Waterfront Fine Dining on the san Diego Bay
Recent Blog Posts