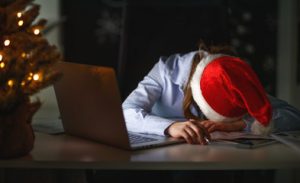 Whether you're opening presents on the 25th or the last days of Hanukkah, the holiday season is a distracting time for many. Between buying the perfect gifts to trying to split your days between the kids home from school and the next pressing deadline, it's not always easy to balance the festivities with the workload. Thankfully, there are a few tips to get you through the December madness this season.
How to Stay Productive During the Holiday Season
Make a list early – We know, we know. This sounds like a simple thing to do, but even Santa has his Naughty and Nice list! You'll most likely be more remote during the upcoming weeks, checking your email by phone, so a physical list you can circle back to can be helpful while you're on the go.
…But be flexible – Things are going to come up during the holidays. Aunt Maude will stay an extra night. The turkey won't be defrosted in time for dinner. You forgot to buy wrapping paper, so you had to rush to the nearest store at midnight (we've all been there). When the unexpected comes up, you can't beat yourself up too much for having to move your day around to make accommodations. Keeping the principle of flexibility in mind will keep you sane when everything else is a little crazy.
Take time to rest (no really) – The days between Christmas and New Year are always a bit of a blur. You've eaten too much, drank too much, and spent too much money. The best thing you can do, mentally, is to take a couple hours just to do nothing and then get back to work afterwards.
Stay active – For kids, opening presents is definitely akin to a marathon race. But, for adults, it's often a few days of overindulgence that can make you feel mentally and physically…blah. Even if it's just a few minutes of stretching, some jumping jacks, or a walk around the block, studies show that if you get your blood pumping, your mind will follow suit.
Get the worst done now – Look at December as one long work week. Get all of the boring, dreaded assignments done now, so you'll be able to take off a little early at the end of the month. Those invoices you hate sending? Send 'em now. Those emails you hate writing? Write 'em now. You're kidding yourself if you think you'll want to do it when you're back to work.
Reflect on your successes and keep moving forward – It's been a long year–365 days of work! Look back and appreciate what you've done, what professional accomplishments you've made, and how you've bettered yourself. Now, take that and apply it to some 2018 goals. It'll keep you motivated longer than you think.
And there you have it! A few tips to keep you pushing through 'til the end of the year. See you in 2018 and Happy Holidays from AlliedPRA!
Destination
Newsletter
Waterfront Fine Dining on the san Diego Bay
Recent Blog Posts