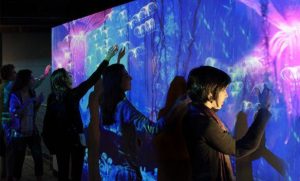 It's not the easiest thing in the world to keep attendees engaged. In fact, it can be downright frustrating as you try to please your guests with fun, interactive entertainment options. In the last few years, AlliedPRA has seen an uptick in demand for events which are fun, but not time-consuming; interactive, but not laborious; Instagram-worthy but not fussy; special, but not expensive. How does an event planner check all these boxes? The answer is simple – Projection art.
Projection art is a cost-effective and endlessly engaging activity that can be easily customized for your guest experience. Using basic AV, you can project any design onto a canvas-covered wall and, by tracing the details and coloring in the imagery, guests can create their masterpiece throughout the event. With its streamlined set-up, nearly any venue can accommodate this activity. Perhaps you project the company's logo, and then give guests the flexibility to make it their own. Maybe your theme is Italian Villa, so you project Primavera, and attendees can use neon-colored markers to become 21st Century Boticelli's. Tailor the canvas to their event and let guests' imaginations run wild. The best part of all: take the mural back with you and frame it…it can be a lasting keepsake in the office of the team's time together or an imaginative 'thank you' gift to an important corporate client.
Projection art isn't a new concept, but its creative, simple, and hands-on versatility makes it a perennial favorite. If you want to add a touch of tech to this otherwise analog pastime, consider shooting a time-lapse video of the art project throughout the event. Who doesn't love a cinematic memento of sharing laughs together?
We're in the business of thinking outside the box. Let's get started today on finding new ways to keep guests entertained and making memories which last far beyond the actual event.
Destination
Newsletter
Waterfront Fine Dining on the san Diego Bay
Recent Blog Posts