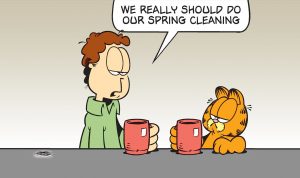 This past weekend, many turned their clocks an hour ahead and "Sprang Forward". While many are chagrined at the thought of losing an hour of sleep, this practice can only mean one thing: Spring is on its way. And with that, one looks forward to thawing out of the winter doldrums and getting more organized. Spring Cleaning is an annual practice for many. It's a time to reflect on the piles of unwanted items that have made their way into your house, to do a deep-clean of every nook and cranny, and to start the warmer months with a blank page.
We think that Spring Cleaning isn't just for the home, though, but for your work space, too. Due to the stop-and-go nature of this time of year, you may not have been as well-organized as you would have liked. Use this time to de-clutter your work space and we promise you'll be using the extra hours of daylight to not only work better, but be less stressed doing so.
Here are some tips to get you started!
Spring Cleaning for Business
Clean our your inbox – Delete, file, and reply to all pending emails in your inbox. Getting to the mythical Inbox Zero won't just make you feel good, it will ensure everything is in its place when you need it next
Update your CRM – When a business's foundation is in customer relations, having missing or incorrect emails means you're missing opportunities to sustain your customer relations. Do a data clean-up when you have the time and get any of the dust bunnies out of your CRM ASAP.
Touch base with your clients – Just because it was wintertime doesn't mean those relationships should grow cold!
Add greenery to your space – Do you find your eyes trailing out to the sunshine, trees swaying, and flowers blooming? Get your Spring fix by bringing a bit of it indoors. Whether its a houseplant, a vase of flowers, or even a little succulent, adding a touch of green indoors means your mind won't be wandering outdoors.
Make a Vision Board – Lynn Lee wrote about the value of having one. Now, a couple months into the new year, is the perfect time to reassess your priorities and move into Spring with your goals laid out
Rearrange your office – Granted, this one isn't the easiest thing to do, but re-positioning your work area will make your mind adjust to the new space, allowing for some of your creativity muscles to stretch a bit
Follow the One-Minute Rule – How many items on your desk can be sorted in no time? How many things on your to-do list are easy, but they keep getting back-burnered for more pressing items? Try following the One-Minute Rule. This rule says you should complete any task if it takes less than a minute to complete. Don't postpone or wait for a better time. This mindset will make you more productive by eating at the minutes we waste procrastinating when we could be using that time more efficiently.
We know Spring is just around the corner, so we hope these tips help to keep you on track to be more productive in the warmer months to come. As the program season heats up, add us to your next to-do list for any upcoming event need you may have! Click here to get started.
Destination
Newsletter
Waterfront Fine Dining on the san Diego Bay
Recent Blog Posts