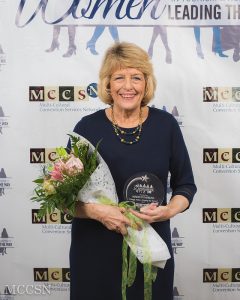 Industry Veteran, Madelyn Marusa Named 2019 Changemaker by Women in Tourism and Hospitality
PRA, a leader in the Business Events industry, with the broadest owned network of offices in the Americas, is pleased to announce leading industry veteran, Madelyn Marusa, Vice President, Industry Relations has been named a 2019 Changemaker by Women in Tourism and Hospitality.
The Multi-Cultural Convention Services Network's (MCCSN) Women in Tourism and Hospitality (W.I.T.H.) Awards Luncheon is held during women's history month and designed to honor well-known, respected and influential women at the pinnacle of their careers. The focus of the W.I.T.H. program is women in the workplace at all stages of their careers and the changing landscape of Tourism and Hospitality. The 4th annual event was held at the Omni San Diego Hotel where guests were inspired and motivated as honorees reflected on their career triumphs in the hospitality and tourism industry. Over 350 industry professionals attended the event, including executives, elected officials and community leaders.
"Madelyn is a force in the hospitality industry, having served as an accomplished leader in a very successful and decorated career spanning decades," shared Laurie Knapp, Chief Growth Officer, PRA. "It is fantastic to see industry peers recognize her immense contributions over the years in helping shape the events industry and the important role she and other women contribute to its overall success. Congratulations Madelyn on this well-deserved recognition and for setting a path for others to follow!"  
Clara Carter, W.I.T.H founder and event producer added: "We recognize and give visibility to the extraordinary talent and service of female executives who are leading the way and making significant contributions to tourism, while empowering tomorrow's leaders."
For more information on the Women in Tourism and Hospitality, please visit sdwithit.com.
Destination
Newsletter
Waterfront Fine Dining on the san Diego Bay
Press Releases