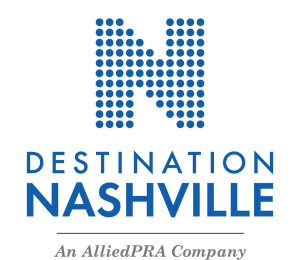 Nashville Business Events Market Leader to Join AlliedPRA in its
Next Chapter of Growth
CHICAGO, IL. February 8, 2018 – AlliedPRA, Inc. the leading destination management company (DMC) in the business events industry, has agreed to terms to acquire Destination Nashville, the DMC leader in the Nashville market.
This acquisition will provide AlliedPRA with an important presence in the Nashville market, which in 2017 enjoyed a record-setting 14.5 million visitors, representing a year-over-year increase of 4.6 percent. Nashville is among the most sought-after locations for business events in North America.
Destination Nashville founder, Rhonda Marko, CMP, CMM, DMCP, will serve as an active strategic advisor to AlliedPRA. Jacqueline (Jackie) Marko, CMP, DMCP will continue to oversee day-to-day operations. Jackie, a member of the Destination Nashville team for over six years, will work closely with Mike Fiber, Chief Operating Officer, AlliedPRA.
In 1994, Rhonda Marko founded Destination Nashville to provide comprehensive destination management services to in-bound corporate, incentive and association clients. Destination Nashville, named one of the best places to work in Nashville, specializes in unique events, entertainment, impeccable coordination of tours and transportation, custom in-house team building activities and a host of other needs in the business events space. Destination Nashville is the preferred DMC partner in Nashville's leading hotels.
Broadly, Destination Nashville enjoys a reputation as one of the pre-eminent event management firms in the meetings and hospitality industry.
Rhonda Marko commented, "Our team takes enormous pride in the business we have built over nearly 25 years. Like AlliedPRA, Destination Nashville is dedicated to our team members, local relationships and one-of-a-kind destination experiences in the Music City with our clients. AlliedPRA has a fantastic reputation for operational excellence and a strategic vision for our sector. Once we become a member of the market-leading AlliedPRA family, we can together redefine our sector's position in the business events industry. We are thrilled about the future of this team as an AlliedPRA company."
"Rhonda Marko and her team have so much to be proud of in their creation of this successful business," stated Tony Lorenz, CMM, Chief Executive Officer, AlliedPRA, Inc. "Destination Nashville is the best business in our sector in the Nashville market. As Nashville is a market our clients want us to be in, Destination Nashville is an important component of our expansion strategy. We welcome Destination Nashville to the AlliedPRA family and look forward to building our exciting next chapter together."
Destination Nashville, An AlliedPRA Company
An award-winning destination management company, Destination Nashville specializes in unique events, entertainment, impeccable coordination of tours and transportation, custom in-house team building activities and a host of other meeting needs. Through creative design, event management and on-site production, Destination Nashville partners with client to provide one-of-a-kind experiences for attendees. For more information on Destination Nashville, please visit destinationnashville.com.
AlliedPRA (alliedpra.com)
Founded in 1981, AlliedPRA is a leading event management and solutions firm in the North America, serving many of the most respected brands in every major industry sector.
AlliedPRA destinations are served by full service teams in Arizona, Aspen, Atlanta, Austin, Beaver Creek, Chicago, Colorado Springs, Dallas/Fort Worth, Denver, Hawaii, Jackson Hole, Lake Tahoe, Las Vegas, Los Angeles, Nashville, New England, New Orleans, New York, Northern California, Orange County, Orlando, Palm Springs, Park City, Salt Lake City, San Antonio, San Diego, Santa Barbara, South Florida, Vail, and Washington, D.C.
AlliedPRA also connects clients with global partners who specialize in tailoring destinations needs while adhering to the same quality standards as AlliedPRA. Additional global locations are serviced by our strategic partners in Africa, Asia, Europe, North America and Latin America through 2B UK, Cantrav, IVI DMC2, DMC Incentive Travel Iceland, KeyCall France and venuesworld.com.
For information on the complete portfolio of services, please email: globalsales@alliedpra.com or visit AlliedPRA.com. Follow AlliedPRA on our blog or any of the following social media sites through the links below.
Destination
Newsletter
Waterfront Fine Dining on the san Diego Bay
Press Releases