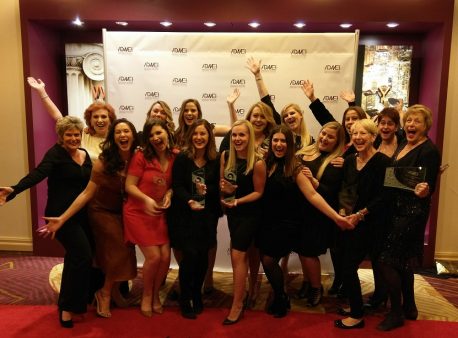 CHICAGO, February 13, 2018 – AlliedPRA Inc., the leading destination management company (DMC) in the business events industry, along with Destination Nashville, the DMC leader in the Nashville market, is pleased to share the exciting news that AlliedPRA and Destination Nashville offices have received top honors from the Association of Destination Management Executives International (ADMEI) 2018 Achievement Awards. In addition, Michelle Harding Lorber, AlliedPRA Atlanta, was named ADMEI Rising Star for 2018.
AlliedPRA Hawaii received Best Overall Program – Platinum Conference and Excellence in Technical Production for the program A Perfect Day in Hawaii. AlliedPRA San Diego was awarded Best Corporate Events, Best Supplier. AlliedPRA New England was honored with the Best Innovative Event, Under $50,000 – Candy Land in the Cafeteria and AlliedPRA Chicago won for Best Tour Program – San Gabriel Valley YPO 49'er Group: Couples Retreat.
In addition, Destination Nashville received an Excellence in Sustainable Initiatives – Rooted in Thirty Years. It was a record-breaking night for the teams, having received the highest number of awards to date from ADMEI. The winners were announced during the ADMEI Achievement Awards ceremony in Chicago, Illinois this past weekend.
"Our business does not exist without our privilege to serve our clients and collaborate with our vendor partners. Likewise, our business is built on the hard work of our team, collectively dedicated to the highest standards in our sector," shared Tony Lorenz, Chief Executive Officer, AlliedPRA, Inc. "This recognition helps underscore our commitment to our clients, our partners and each other. A special note of congratulations to Michelle Harding Lorber! You make us proud on and off the field at AlliedPRA. Well-deserved congratulations to AlliedPRA and Destination Nashville teams and the collaboration it took with their clients to submit these fine examples of exceptional programs for industry peer review."
ADMEI is the only global non-profit association dedicated to increasing the professionalism and effectiveness of destination management through education, promotion of ethical practices and availability of information to the meetings, convention and incentive travel industries, as well as to the general public. For more information about ADMEI International, visit www.ADMEInternational.org.
AlliedPRA (alliedpra.com)
Founded in 1981, AlliedPRA is a leading event management and solutions firm in the North America, serving many of the most respected brands in every major industry sector.
AlliedPRA destinations are served by full service teams in Arizona, Aspen, Atlanta, Austin, Beaver Creek, Chicago, Colorado Springs, Dallas/Fort Worth, Denver, Hawaii, Jackson Hole, Lake Tahoe, Las Vegas, Los Angeles, Nashville, New England, New Orleans, New York, Northern California, Orange County, Orlando, Palm Springs, Park City, Salt Lake City, San Antonio, San Diego, Santa Barbara, South Florida, Vail, and Washington, D.C.
AlliedPRA also connects clients with global partners who specialize in tailoring destinations needs while adhering to the same quality standards as AlliedPRA. Additional global locations are serviced by our strategic partners in Africa, Asia, Europe, North America and Latin America through 2B UK, Cantrav, IVI DMC2, DMC Incentive Travel Iceland, KeyCall France and venuesworld.com.
Destination Nashville, An AlliedPRA Company
An award-winning destination management company, Destination Nashville specializes in unique events, entertainment, impeccable coordination of tours and transportation, custom in-house team building activities and a host of other meeting needs. Through creative design, event management and on-site production, Destination Nashville partners with client to provide one-of-a-kind experiences for attendees. For more information on Destination Nashville, please visit destinationnashville.com.
For information on the complete portfolio of services, please email: globalsales@alliedpra.com or visit AlliedPRA.com. Follow AlliedPRA on our blog or any of the following social media sites through the links below.
FOR IMMEDIATE RELEASE
Media Contact:
Michelle Kennedy
M: +1 619.577.2513
michelle.kennedy@alliedpra.com
Destination
Newsletter
Waterfront Fine Dining on the san Diego Bay
Press Releases