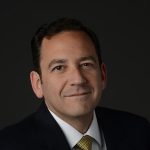 CHICAGO, IL., December 18, 2017– AlliedPRA, Inc., an award-winning Business Event Management firm which leads the critical destination management company (DMC) sector, is pleased to announce Mike Fiber will serve AlliedPRA as Chief Operating Officer (COO), according to Tony Lorenz, CMM, Chief Executive Officer (CEO), AlliedPRA, Inc. Fiber will be based in Chicago, IL.
As COO, Fiber will lead all operating businesses across AlliedPRA, including 26 wholly-owned and franchise locations in the Eastern, Central and Western regions of North America, all of which serve many of the world's most respected brands.
Prior to joining AlliedPRA, Fiber served as Vice President of Operations for PSAV Presentation Services, a $1.6 billion global provider of event technology services. While there, Fiber developed key strategies and best practices in support of PSAV's dramatic growth through acquisitions and organic sales.
"Mike is a strong, leader with proven results in the growth and development of people, processes and diverse business units which improve the client and team member experience." commented Lorenz. "As a key member of our leadership team, Mike will drive strategic alignment and consistency in our business as we grow. We are thrilled to welcome Mike to the team at an inflection point in our business."
Fiber added: "AlliedPRA is widely known for outstanding service delivery to meet evolving client needs in our industry. It's an exciting time to join AlliedPRA as we write this next chapter in our significant growth strategy. I look forward to first learning about the business. We will further drive scalable operational excellence as a team in pursuit of our inspiring strategy."
Destination
Newsletter
Waterfront Fine Dining on the san Diego Bay
Press Releases