Chicago, July 31, 2018 – PRA, Inc., a leading event management and solutions firm in the business events industry, is pleased to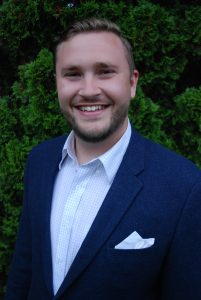 Mitch MacGregor joined the company as Global Sales Manager. In his role, MacGregor will work alongside Madelyn Marusa, Vice President, Industry Relations & Global Sales Director, to assist with her accounts. MacGregor is responsible for fostering deeper relationships with existing clients and leveraging these relationships to drive revenue to PRA offices through third-party accounts in the Midwest region.
Before joining the PRA Global Sales team, Mitch ­worked as a brand ambassador for Global Travel Alliance in the Midwest. He has extensive meetings industry experience, having worked in the Washington, D.C. metropolitan area as a Senior Events Manager at both the D.C. Bar Association and for CSI DC.
MacGregor is an active member with SITE (Society for Incentive Travel Excellence) and has been a member of the organization for seven years. MacGregor's involvement with SITE includes being a recipient of the SITE Minnesota Young Leader Scholarship in 2011, and the 2014 SITE Young Leader Committee serving as the Chair for Events and Education. Further to his involvement, MacGregor has received industry recognition with ADMEI (Association of Destination Management Executives International). MacGregor spearheaded a program acquisition and execution, winning the 2017 ADMEI Excellence Award and was a finalist for the 2016 Achievement Award.
"I am excited to have Mitch join me on our Global Sales team," shared Marusa. "His enthusiasm for the business is inspiring and we cannot wait to see how his experience in operations and other talents will impact our offices. In working with our clients, Mitch will be a great asset to the planning process with his fun sense of humor and DMC expertise."
MacGregor resides in his hometown of Minneapolis.
Destination
Newsletter
Waterfront Fine Dining on the san Diego Bay
Press Releases