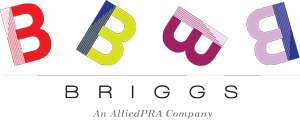 New York Business Events Market Leader Joins AlliedPRA in its Next Chapter of Growth
CHICAGO, IL. August 31, 2017 – AlliedPRA, Inc., a firm, which leads the Destination Management (DMC) sector of the Business Events industry with 26 locations and $115 million in system revenue, has acquired Briggs, the DMC leader in the New York City area market. The strategic move significantly expands AlliedPRA's reach into this important marketplace.
Anthony Napoli, CMP, DMCP, President of Briggs, will continue to lead the award-winning team under the highly- respected Briggs brand, now owned and operated as an AlliedPRA Company. Gary Newman, and Cosimo Bruzzese, will continue their leadership of Briggs in the roles of Executive Vice President, Finance and Operations, and Vice President of Business Development, respectively.
Founded in 1982, the award-winning Briggs team specializes in custom transportation solutions, corporate and incentive events, and offers its clients a wide variety of activities and experiences unique to the New York market. The Briggs team has established strategic relationships with all the major incentive houses, leading hotels, event venues, and hundreds of business partners throughout the region supporting the critical business objectives of Briggs' clients.
Briggs sets the service standard for excellence in New York City with an unmatched industry reputation for reliability, leadership, ingenuity and professionalism. Briggs has deep knowledge, and a tenured and widely known dedication to the quality of its solutions delivered to many of the world's most respected brands.
Anthony Napoli, President of Briggs said, "It's not where you start, it's where you finish! The Briggs team takes enormous pride in the successful business and relationships we have built over the last 35 years in the greatest city in the world, New York City. We will continue our dedication to our employees and our partners, with our steady commitment to creating one-of-kind New York experiences for and with our valued clients. Now as a member of the market leading AlliedPRA family, we are invigorated by what we can do together to redefine the DMC sector of the Business Events industry. We are thrilled about what the future holds for our business with AlliedPRA."
"This is an exciting time for AlliedPRA as we expand our business in a city and region our clients value," stated Tony Lorenz, CEO of AlliedPRA. "Without a doubt, Briggs is the best business in our sector in the highly competitive and critically important New York market. Briggs is comprised of a team of innovators who push well beyond traditional New York experiences, now further driving innovation as a core competency at AlliedPRA. We are in the early stages of expanding our business in good part through our alignment with the best talent this industry has to offer. Briggs has enormous talent, and will play a leading role in AlliedPRA's intent to re-shape the way in which our sector contributes to the overall Business Events landscape over time. We welcome Briggs to the AlliedPRA family in anticipation of our next exciting chapter ahead together."
Briggs, an AlliedPRA Company Briggs is an award-winning, savvy New York Event & Destination Management Company with a time-honored dedication to perfection. Recognized throughout the world with multiple achievement awards, Briggs leads the industry with peerless service, strong management and unexpected creativity. The firm creates memorable experiences for corporate teams and incentive groups through its close relationships with the most important resources and venues in New York. For more information on Briggs, please visit www.briggsnyc.com.
AlliedPRA
Founded in 1981, AlliedPRA is a leading event management and solutions firm in the US, with a reach in over 100 destinations, serving some of the most respected brands in every major industry sector. Visit www.alliedpra.com to learn more.
AlliedPRA Coverage AlliedPRA destinations are served by wholly-owned and franchise operations in Arizona, Aspen, Atlanta, Austin, Beaver Creek, Chicago, Colorado Springs, Dallas/Fort Worth, Denver, Hawaii, Jackson Hole, Lake Tahoe, Las Vegas, Los Angeles, New England, New Orleans, New York, Northern California, Orange County, Orlando, Palm Springs, Park City, Salt Lake City, San Antonio, San Diego, Santa Barbara, South Florida, Vail, and Washington, D.C.
AlliedPRA also connects clients to global partners who specialize in tailoring destinations needs while adhering to the same quality standards found in each location. Additional global locations are serviced by our strategic partners in Africa, Asia, Europe, North America and Latin America through 2B UK, Cantrav Destination Management Services, IVI DMC2, DMC Incentive Travel Iceland, KeyCall France and venuesworld.com.
For information on the complete portfolio of services, please email: globalsales@alliedpra.com or simply visit www.AlliedPRA.com. Follow AlliedPRA on its blog site or any of the following social media sites: Twitter at www.twitter.com/#!alliedpra, Facebook at www.facebook.com/alliedpra and on LinkedIn under AlliedPRA groups.
Destination
Newsletter
Waterfront Fine Dining on the san Diego Bay
Press Releases