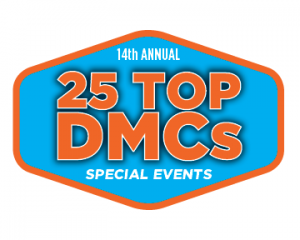 CHICAGO, IL. July 19, 2018 – PRA, Inc., a leading event management and solutions firm in the business events industry, once again has been named a Top Destination Management Company (DMC) by Special Events magazine, according to Lisa Hurley, Director of Content, Special Events magazine. The coveted honor marks the 14th consecutive year PRA has been recognized as one of the Top 25 Destination Management Companies in the global DMC space.
The Special Events Magazine 25 Top DMCs list recognizes the strongest businesses around the world that know the destinations they serve and maintain long-standing relationships with local industry partners to provide unique local destination experiences – a critical component of business events. This expertise is developed over years of creating programs in concert with a robust supply chain which supports transportation, tours, activities, events, and more.
"While we are humbled by the opportunity to work with our clients and partners, it is an honor for our team to be recognized as a leader in the business events community," shared Tony Lorenz, Chief Executive Officer, PRA. "Business events have an opportunity to serve as incredible drivers of targeted business outcome. In order to keep pace with that opportunity, our sector must evolve with a quickly changing market which demands progressive experiences. When we get it right as a team, the events and related services we deliver act as extraordinary levers which move careers, businesses, and at times entire industries forward."
To view the Special Events 25 Top DMC list, click here. Included in the rankings, you will find company capabilities, noteworthy events and industry trends to watch. PRA shares its views related to the significant changes ahead for the industry which will undoubtedly change the global landscape of business events.
PRA (alliedpra.com)
Founded in 1981, AlliedPRA is a leading event management and solutions firm in the North America, serving many of the most respected brands in every major industry sector.
PRA destinations are served by full service teams in Arizona, Atlanta, Austin, Chicago, Colorado Springs, Dallas/Fort Worth, Denver, Hawaii, Jackson Hole, Lake Tahoe, Las Vegas, Los Angeles, Nashville, New England, New Orleans, New York, Northern California, Orange County, Orlando, Palm Springs, San Antonio, San Diego, Santa Barbara, South Florida, Utah, Vail/Beaver Creek, and Washington, D.C.
PRA also connects clients with global partners who specialize in tailoring destinations needs while adhering to the same quality standards as PRA. Additional global locations are serviced by our strategic partners in Africa, Asia, Europe, North America and Latin America through 2B UK, Cantrav, ESA Latin America, DMC Incentive Travel Iceland, KeyCall France and venuesworld.com.
For information on the complete portfolio of services, please email: globalsales@alliedpra.com or visit AlliedPRA.com. Follow AlliedPRA on our blog or any of the following social media sites through the links below.
Destination
Newsletter
Waterfront Fine Dining on the san Diego Bay
Press Releases