2019 Culinary Trends: Thrilling your Senses, One Bite at a Time!
One of the most important elements when planning the dining portion of your program is the guest experience. Do you consider the sound of the champagne popping? The color palette of the crudité? The convenience of bite size?
Experience design is a backbone to today's event management landscape. How we integrate the elements of a guest experience into the course selection is up to us. Catering looks, sounds, smells, tastes, and textures are important considerations when planning a menu.
Let us walk you through a few of 2019's culinary trends. You'll be surprised how easy it is to incorporate these experience design elements into your next event menu.
2019 Culinary Trends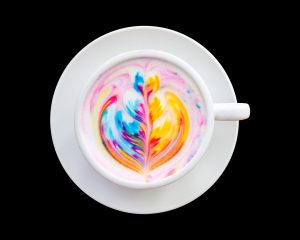 Sight
They say one eats with their eyes first and in 2019, culinary trends are adapting faster to make catering options all the more intriguing. Those who post of social media want their dinner instagrammable moment!
Event professionals have adapted to this demand by introducing stations that make your mouth water and your followers wanting more.
One such trend that's making headway in 2019 is colorful coffee. Using rainbow-colored milks, your guests will love snapping a photo of their tie-dyed latte moustaches with their fellow attendees.
Sound
Did you know that crunchy or "loud" foods make nearby guests hungrier? It's true!
You may be asking yourself, then, "What does that have to do with 2019 trends?"
Two words: potato chips.
Stripped-down menus centering on classic comfort foods will morph in 2019 slightly to encompass some of our favorite junk foods, but elevated slightly. From crunchy kettle chips topped with caviar to buckets of classic, buttery popcorn for a movie screening, incorporating "loud" foods is a sensory upgrade to any program. Guests will leave your event saying, "It was love at first…crunch!"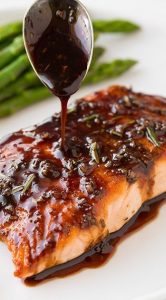 Smell
Our sense of smell is closely tied to memories, which is why aromatics naturally alter moods.
Floral scents especially are going to start showing up in everything from cocktails to food and in fragrances like chamomile, hibiscus, rosemary and more. Whether its salmon dishes that use lavender balsamic reductions to rose-infused lattes, 2019 welcomes these fresh scents as an integral part of the guest experience.
Taste
Have you heard the new four rules to dining? Salt, Fat, Acid, Heat. Do these sound familiar? This also happens to be the title of James Beard winner, Samin Nosrat's bestselling cookbook and Netflix series.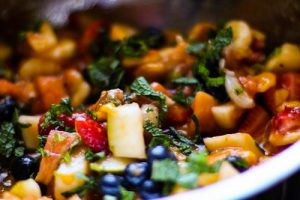 Simply put, these four elements should be incorporated into every dish. Our palates are designed to enjoy the interplay of these competing yet complementary flavor profiles and catering menus are taking notice of this wildly popular approach to cooking.
We recommend playing with flavors here. A poblano and mango fruit salad, miso deviled eggs, or a classic margarita with a chili-coated rim.
 Feel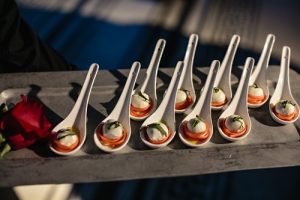 We saved the best for last. The feel of your foods might be the most fun you have with menu planning. With menus crossing cultural lines, drinks like bubble tea (tapioca pearls at the bottom of a sweetened drink) or a raw oyster bar may add a bit of fun to each bit, sip, or snack.
Thinking outside the box with hors d'oeuvre may be easier than you think. In 2019, we see Jell-o cubes of champagne, boozy gummy bears, and even a throwback to dehydrated ice cream that melts in your mouth…not in your hands.
Five senses and a world of possibilities for your next culinary menu – centering around the guest experience in the Instagram age. What trends do you see happening this year? And, how are you incorporating the five senses in your menu planning? We'd love to hear from you in the comments below.
Destination
Newsletter
Waterfront Fine Dining on the san Diego Bay
Recent Blog Posts