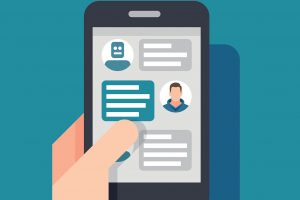 In 2017, IMEX debuted their concierge known as Frank. Frank was by far the most tireless worker – he didn't take a break once in three days! Helpful, insightful, eager to please, Frank pulled all-nighters for attendees. Frank was also a bot whose sole purpose was to deliver personalized service to nearly 9,000 guests. Between the Alexa in your house to Siri on your phone, Artificial Intelligence (AI) integration is becoming an everyday reality for most. It is no wonder that bot technology has bridged the gap into the event production industry.
You may have a few questions regarding Chatbots, the AI interfacing platform for event attendees. It can be difficult to navigate new technologies as they appear and how to best utilize their function in our marketplace. Luckily, we've created the below primer to get you started.
What are Chatbots?
The short answer is that Chatbots are a text-based communication concierge that is programmed to answer simple questions and directives during an event. These questions can be as easy as "What time is dinner tonight?" to more complex requests such as "Can you send me an agenda for Thursday?" Based on the programming upfront, it can anticipate guests' needs and be an extension of your team to offload some of the questions that generally tie your team up during an event.
Why use them?
It will free your team up from answering too many repeat questions from guests. It will also be an added element of connection and interaction with guests, as they will never be without a personal attendant to their every question (well…almost every!). Further, if a question comes in after hours or early in the morning, a guest will not have to stress about finding the answer they need–when they need it.
For reference, IMEX Frankfurt's Frank answered a whopping 3,600 questions during one of the busiest times for the IMEX team. Think of the possibilities having a team member who never forgets, never sleeps, and does not require overtime pay!
How do you use them?
The easiest application of Chatbots is through text message communication. Having your Chatbot connected through texting means a mobile agent is not restricted to a web browser. And, as we know, hotel Wi-Fi being shared by thousands of guests can be a recipe for disaster. By enabling SMS functionality through your Chatbot, attendees now have an agent at their service to answer any text they may send off at any hour of the day.
Chatbots work best with simple commands or questions, as the front-line programming of this AI technology means that there is little wiggle room for improvisation. Chatbots track at around 70% success on their first response. With most guests losing their agendas or curious about a guest speaker, these questions can be easily answered by the Chatbot's personalized and customized service to the program.
Are there drawbacks?
As with any new technology, integration and adoption has to come from your staff first. We recommend that staff members know the ins and outs of the product, but also the limitations of Chatbots. There will be questions the AI will be able to answer, yes, but it will not replace the experience of a 20-year veteran. Further to the point of adoption, by uploading as much info into the AI's database up front and doing the heavy work early, you will get more out of the bot later.
Additional benefits
On a recent webinar with MeetingsNet, two additional benefits were discussed. The post-event reporting from your Chatbot will show the most frequently asked questions from the event. These questions will help you for later events in filling the holes where guests still had questions. The Chatbot reporting gives great intel into the best practices of your existing team.
Secondly, a generational shift is happening in our industry whereby millenials are now the primary age group in the workforce. By adapting technology to fit generational mores and communication habits, we can transition existing practices into a new technological age.
AlliedPRA knows that we can never lose the value of the human connection. But, we also see the value in having AI integration be an extension of your team. With so many new trends and technology, keep reading our blog to stay up-to-date on how our event space continues to change.
Destination
Newsletter
Waterfront Fine Dining on the san Diego Bay
Recent Blog Posts