I recently spent a few days at New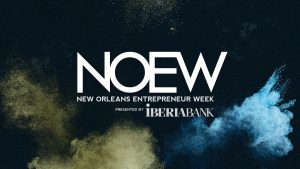 Orleans Entrepreneur Week. What started nine years ago as a small gathering of hopeful local entrepreneurs and a few investors has quickly turned into what USA Today dubbed "The Mardi Gras of Entrepreneurship".
Observations
This year's event featured 215 speakers, 199 qualified local and regional startups and local and national investors including Jim Coulter of TPG Capital who was one of the lead backers of the event. In all, over 14,000 people took part and I can tell you the vibe everywhere was captivating. Not only was I able to sit in on some really stimulating sessions, I mentored some startup companies through the "Office Hours" program and listened to pitches from a number of fascinating companies seeking funding.
This week, the Collision Conference has hit New Orleans for the second year running, with over 20,000 attendees from over 100 countries. Attendees include CEOs of both the world's fastest growing startups and the world's largest companies, alongside leading investors and media. Many call New Orleans America's Fastest Growing Tech Conference.
Why the Success?
So, why the success of these tech heavy events in New Orleans? The same reason New Orleans has been called the #1 Brain Magnet in America (Forbes), #3 City Winning the IT Jobs Battle (Forbes), #5 City for Women in Tech (Smart Asset), #1 City for Creatives (Smart Asset). At any rate, there has been a tech boom happening here and an influx of ambitious 20 and 30 somethings who love the quality of life, compactness and joie de vivre of New Orleans.
Couple this with New Orleans being one of the top cities for convention and conference facilities in the United States, Tech Conferences can accomplish their strategic meeting goals while engaging a thriving local tech scene. Local incubators such as Idea Village and others facilitate meet ups and other events, engaging conferences (and investors) in the local tech community.
Further, tech companies are leading the shift away from industry conventions to investing in their own proprietary events which is more engaging for their users and their teams. By and large, New Orleans has become a leader in hosting these events!
With the fastest growing mid-size airport in the United States featuring numerous non-stop flights from both coasts and newly launched non-stop international service to London and Frankfurt, New Orleans is more accessible than ever.
What's next?
I am seeing with it my own eyes and the Tech community is clearly, as we say in New Orleans, "in that number!" Find out more about New Orleans here!
Destination
Newsletter
Waterfront Fine Dining on the san Diego Bay
Recent Blog Posts