Between the sights, the sounds, the weather, and the flavors of the city, it is no wonder that Atlanta is high on the list for those looking to create unique experiences for their attendees. Atlanta's cultural and social scene have grown tremendously the last few years, and we have been fortunate enough to create some truly mesmerizing corporate events. This year, we're seeing an influx of new trends on the social landscape. Here's the inside local knowledge for you of what's hot in HOT-lanta!
Mercedes-Benz Stadium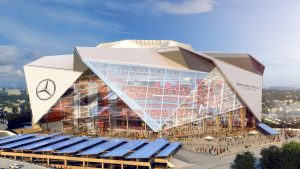 Built to replace the Georgia Dome, the Mercedes-Benz Stadium is a multi-purpose architectural marvel to serve as the new home of the Atlanta Falcons and the Atlanta United FC. Set to open later this year, we are more than a little excited to see how we can put our brand of magic on this event space. Further, with 15 different private event spaces, we truly can match any style, size, and need you may have. From small, intimate cocktail hours to large-scale conventions, we have everything we need all in one place to make your guests feel like MVP's.
SunTrust Park
What can we say–we love our sports! The Braves' newest stadium, SunTrust park, is the latest and greatest for our beloved baseball team. Let us plan your next event with unique offerings that AlliedPRA Atlanta can create for you. While we can definitely set up transportation and tickets for your guests to enjoy a night our at the stadium, we are able to use this space for so much more. Host an on-field dinner for you and your attendees. Or perhaps some batting practice, stepping into the shoes of some of Atlanta's greats.
The Federal
Finally, paying homage to the Federal Reserve Bank, this trending restaurant is at the top of many tourists' must-see list. Combining classic American steakhouse favorites with French bistro flair, it's a match made in heaven. The Federal is able to accommodate large and small parties alike, making it the perfect backdrop to take your guests to a new world without ever having to leave Atlanta. With a menu full of delicious takes on classic faire, it's sure to be a hit with your attendees.
Can't decide which venue to pick first? In the meantime, let AlliedPRA Atlanta show you the city we see everyday–the one built on excitement, engagement, and intriguing local finds. Contact us today to get started.
Destination
Newsletter
Waterfront Fine Dining on the san Diego Bay
Recent Blog Posts