New York City is known by many as the "Center of the Universe," and we all can agree it is. From historic landmarks, to a plethora of food and theater choices, to museums to fit every interest, there are some NYC activities that everyone – visitors and locals alike – should do at least once. But if you really want to take a bite out of the big apple, we've got some spine-tingling bucket list items your attendees never knew they wanted. Discover a handful of our once-in-a-lifetime DMC signature experiences that put a PRA twist on some of the Only in New York encounters.
Your Name in Lights
You don't have to be Beyoncé to have your name appear in the middle of Times Square – just call PRA!  Give guests the surprise of a lifetime by showing their names on the ABC sign in the heart of the Big Apple – right in Times Square for all to see!
Take the evening inside and indulge guests with a private dinner at ABC Studios. If you've watched Good Morning America, then you've already seen the inside of this incredible venue. End your evening with a guest appearance from Michael Strahan, co-anchor of GMA.
Broadway Behind the Scenes
Do you belt out your favorite Broadway tunes in the shower? Then this wicked experience is "pop-u-lar, I want to be pop-u-lar" for you!
Take guests to the Theatre district for a private, behind the scenes look into one of New York's favorite Broadway shows, led by a prominent Theater Historian and Licensed New York City Tour Guide. Want to know what the day-to-day life of a performer is like? How they build and design the scenery and costumes? Or, what happens when the show doesn't go the way it's planned?  Those and other insider questions will be answered when you visit the world of Broadway!
Anxious for more? Amaze your guests with the chance to meet a Broadway star after their tour! This cast member will answer any questions your guests may have about the business, provide insight about working on stage, and even sing 2 numbers.
Liberty Island – Home of the Statue of Liberty
She is an icon, a national treasure, and one of the most recognizable figures around the globe and your guests can enjoy this  monument with nobody else around. She is, of course, the Statue of Liberty! Step up the "wow" factor with a private evening on Liberty Island. Seize this unique opportunity with an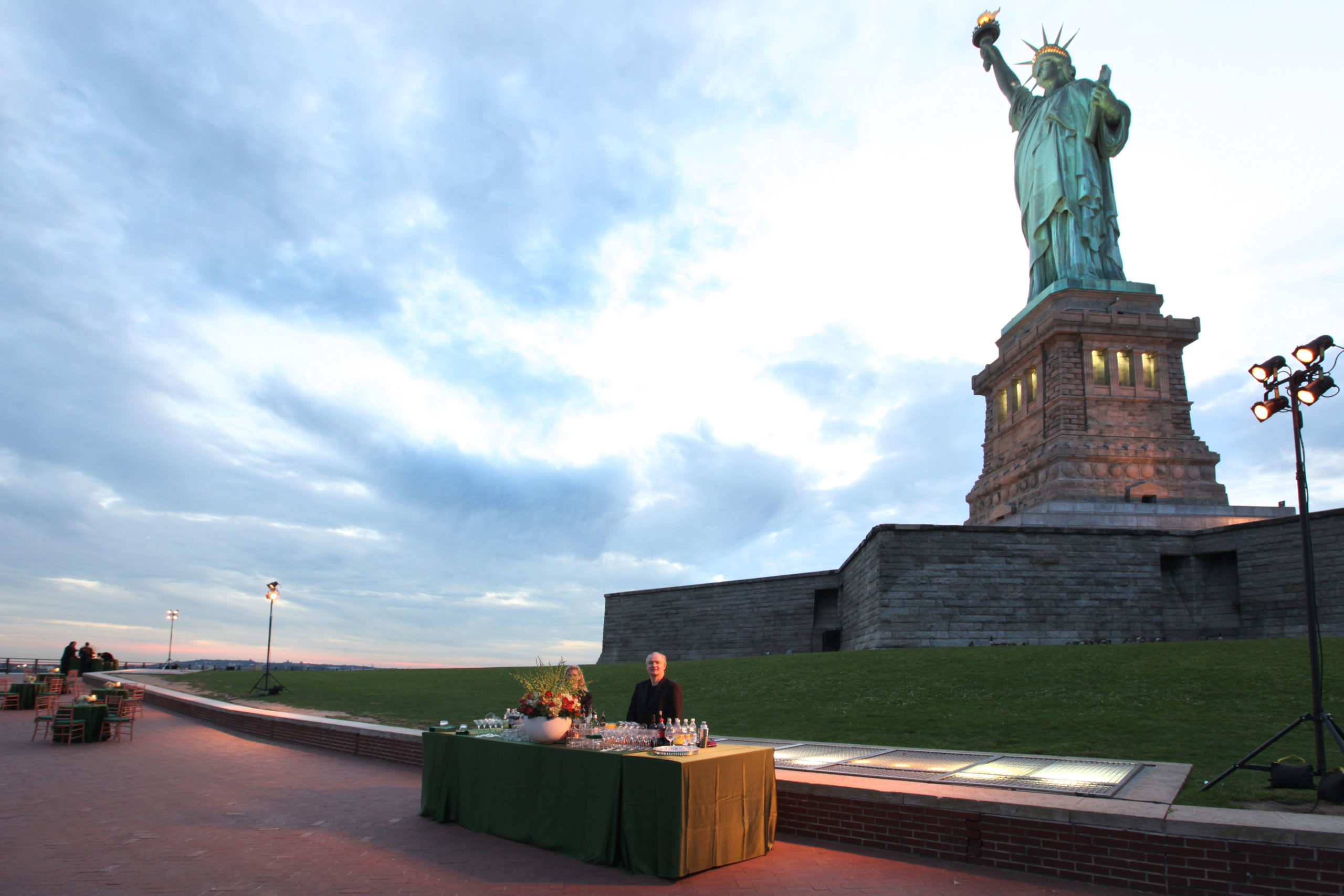 exclusive ferry ride to the island along with a champagne greeting once guests reach the island. Guests will enjoy light bites on the beautiful patio followed by dinner around the original torch with the statue and spectacular city lights in the background.  The evening will end with a showstopping firework display over the statue
of Liberty.
NYPD For a Day
Is Criminal Minds or Law and Order calling your name? Are you a crime documentary junkie? Then, this experience may be right up your ally. Grab your coat as you head up to join the ranks of the NYPD!
Guests will start the adventure with a visit to the NYPD Police Precinct and see what a day in life of a New York City police officer entails. Police Officers will introduce themselves and explain their duties, along with their exploits. From there, guests will travel to an active police squad and meet with detectives, their supervisors, and get a first-hand look at what they do. There, guests will tour the precinct house and learn the ins and outs of being part of New York's finest! You may even get to read someone their rights…well maybe just within your group, but you get the idea!
Do any of these signature experiences catch your attention? Contact PRA New York today to start planning the event of a lifetime.
Destination
Newsletter
Waterfront Fine Dining on the san Diego Bay
Recent Blog Posts