Chicago Office
One North LaSalle Street
Suite 1800
Chicago, IL 60602
P: 312-332-6670
F: 312-332-6671
Chicago Office
Choose the dynamic sophistication of the Windy City for your next program. Our savvy Chicago team loves to create one-of-a-kind events including destination incentive programs, team-building and corporate social responsibility initiatives. We can't wait to impress your participants and make you look great.
"From start to finish, the team was highly engaged and showed great enthusiasm for our program. No stone was left unturned; everything was seamless from beginning to end."

-Rosa, Industrial Product Manufacturer
Meet our team
Heather Brown, CMP, DMCP

General Manager

Heather has had successful career in the hospitality and special event industry in Chicago since 1999, and she still finds every day to be rewarding and exciting. Her position as Senior National Sales Manager at PRA Chicago allows her to share that passion with her clients to assist in creating unique and one-of-a-kind experiences through true collaboration and partnership. With numerous events under her belt, one of her favorite career experiences was the 2012 Chicago Summit; Heather led the team who partnered with the White House to plan and execute the NATO Working Dinner for President Obama and the NATO delegates. It was an incredible opportunity!

Heather is an engaged member of MPI Chicago, a member of FICP, an avid Cubs fan, and love spending her free time "researching" new Chicago restaurants with her husband. With over 5,000 restaurants in Chicago, it's the best, never-ending task.

Contact: Heather.Brown@PRA.com
admin
2018-10-16T20:23:03+00:00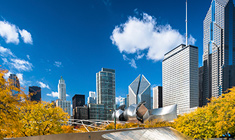 Request a proposal
We would love to work with you wherever you'd like to host your next business event.
Please complete the fields to the left so we can move quickly to start creating a proposal filled with unique and creative event ideas that will meet your program objectives and participant needs. Keep an eye out for our response, which we will send as soon as possible.