PRA, a leading event management and solutions firm in the business events industry, once again has been named a Top Destination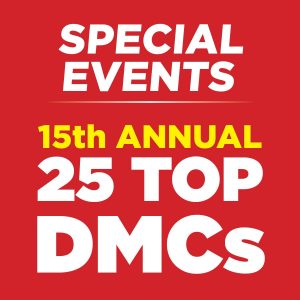 Management Company (DMC) by Special Events magazine, according to Lisa Hurley, Director of Content, Special Events magazine. The coveted honor marks the 15th consecutive year PRA has been recognized as one of the Top 25 Destination Management Companies in the global DMC space.
The Special Events Magazine 25 Top DMCs list provides a resource for meeting professionals looking for DMC partners around the U.S. and the world. It recognizes the strongest businesses that know the destinations they serve and maintain long-standing relationships with industry partners to provide unique local destination experiences – a critical component of business events. This expertise is developed over years of creating programs in concert with a robust supply chain which supports transportation, tours, activities, events, and more. The list also provides a valuable "trends to watch" section, where DMCs share their take on changes they see in the industry.
To view the Special Events 25 Top DMC list, click here. Included in the rankings, you will find company capabilities, noteworthy events and industry trends to watch. PRA shares its views related to the significant changes ahead for the industry which will undoubtedly change the global landscape of business events.
Destination
Newsletter
Waterfront Fine Dining on the san Diego Bay
Press Releases